Cheap Yard Signs Direct From Manufacturer
How do we do it? With with semi-automatic screen printing presses and ''state of the art'' UV Curing Reactors. Scroll down to learn more.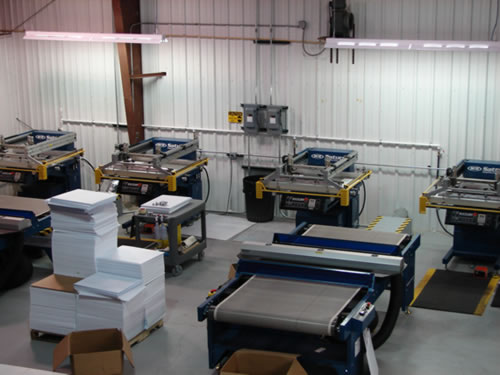 Yard Sign Production Area at SignOutfitters.com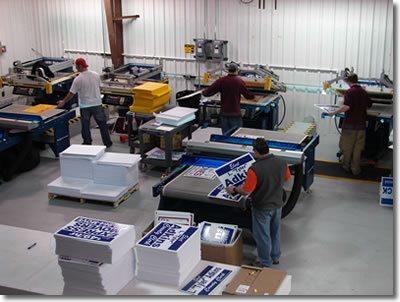 Political Yard Sign Production and Quality Control
In our yard sign production we use semi-automatic M & R Saturn screen printing presses to print our yard signs. We are capable of printing thousands of yard signs everyday. In addition to using semi-automated presses, we also use environmentally friendly Ultra Violet curable screen printing inks in our production process. UV inks are cured with state of the art Vitran UV Reactors.
Environmentally Friendly UV Screen Printing
SignOutfitters.com uses environmentally friendly Ultra Violet curable inks for screen printing our corrugated plastic yard signs. UV inks are about as environmentally friendly as screen printing inks can get, because they produce almost zero emissions. Unlike conventional screen printing inks, UV inks do not contain any solvents. The solvents used in traditional air-dry screen printing inks evaporate as the inks dry releasing Volatile Organic Compounds (VOCs) into the atmosphere. VOCs are harmful in two ways: First, they are a key cause of air pollution creating harmful pollutants like ground-level ozone. Secondly, some VOCs are classified as Hazardous Air Pollutants and harmful to people who work in or near traditional air-dry screen printing facilities. Air-dry screen printing inks may be subject to special regulatory controls under the Clean Air Act. SignOutfitters.com only uses UV curable screen printing inks in our yard sign production facility.
UV Screen Printing
UV screen printing inks do not actually dry in the printing process, they cure. Although UV screen printing inks look like traditional liquid solvent based inks, they are very different. UV inks look like liquids but they are actually solids. They remain liquid until they come into contact with intense Ultra Violet light generated by UV reactors. When an UV ink is exposed to intense Ultra Violet light it cures instantly that means no drying time. This instantaneous curing allows SignOutfitters.com to produce many more yard signs per day than if we used conventional solvent based air-drying inks. Our yard signs can be handled and packed for shipping immediately after they emerge from the UV reactor.
In a nutshell this means that we can produce a cheap yard sign quickly without sacrificing quality. So whether you need an advertising yard sign to promote your business, a political yard sign to promote your election campaign, or a real estate yard sign make us your source for all of your signage needs.